Thanks For Joining Me!
Dear friends,

Thanks for joining me for the webcast today!

Here are some links to free resources that you can download and use right now... and for your convenience I am including links to my CD's, seminars, and other continuing education resources that you will find to be useful.

If I can be of any help to you or your organization... or you just want to say "hi', drop me a note.

I am at your service!
Free Resources
Email Dynamix ($18.97 FREE PDF Download Now)

How to communicate effectively using email
Why email fails and what to do about it
When and how to use email to your advantage
The pitfalls of email and how to avoid them
How to uncover valuable information that your sender has unwittingly included
Discovering the sender's values by reading between the lines
Other Resources
Use these additional resources to expand your communication skills and become an expert communicator!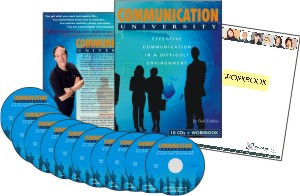 Communication University Self-Study Course ($197)

Values and values hierarchies explained and demonstrated in-depth
Beliefs, belief cycles and belief leaps and how to use them
Conflict resolution principles
Effective questioning and persuasion techniques
Dozens more cutting edge communication techniques
A complete two day seminar condensed into a 10 CD set and 50 page workbook
Includes a $197 live event discount coupon