Welcome To The Life You Deserve!
If you have been offended or hurt by someone in the past and are struggling to let go and live the life that you deserve, this program will show you how.
How unforgiveness hurts youow to regain control of your emotions and life
What keeps us from forgiving even if we know we should
Exactly how to forgive someone
How to forgive yourself
What to do if you have offended someone else
How to apologize
| | | |
| --- | --- | --- |
| | | |
| | Includes Paul's exclusive walk through the path of forgiveness, a twenty minute closed-eye process that reveals your choices and gives you the power you need to make a decision that will change your life forever! | |
| | | |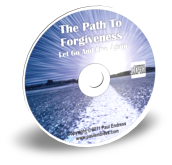 WARNING: This program includes light hypnosis. Do not listen to this program while driving in a car.