Thanks For A Great Time!
Email Book • Free Follow On Lessons • Continuing Education Materials
Dear friends,

I had a great time with you in Houston last week... thanks for being such a great group!

Here are some links to free resources that you can download and use right now ... and for your convenience I am including links to my CD's, seminars, and other continuing education resources that you will find to be useful.

If I can be of any help to you or your organization... or you just want to say "hi', drop me a note.

I am at your service!
Here's the link that I promised you to my email book... enjoy!
Email Dynamix ($18.97 FREE PDF Download Now)

How to communicate effectively using email
Why email fails and what to do about it
When and how to use email to your advantage
The pitfalls of email and how to avoid them
How to uncover valuable information that your sender has unwittingly included
Discovering the sender's values by reading between the lines
Special Offers
If you enjoyed out time together, you can use these additional resources to expand your communication skills and become an expert communicator!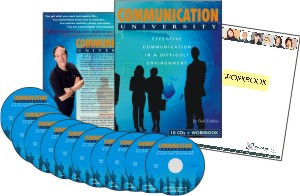 Communication University Self-Study Course ($197)

Values, beliefs, and how to find and use them
Asking questions to create agreement
Detecting and getting rid of fuzzy words and other filters
A complete two day seminar condensed into a 10 CD set and 50 page workbook that you can use at your leisure