Thanks For A Great Time!
Dear friends,

I had a great time with you in Miami this weekend... thanks for being such a great group!

Here are some links to free resources that you can download and use right now... and for your convenience I am including links to my CD's, seminars, and other continuing education resources that you will find to be useful.

If I can be of any help to you or your organization... or you just want to say "hi', drop me a note.

I am at your service!
Free Resources
The Relationship Puzzle ($8.97 FREE PDF Download Now)

Discover the four basic communication styles
Included survey reveals your preferred style
Learn how each style views relationships
Uncover how each style interacts with the others
Find out how to communicate most effectively with the other styles
Specific dating advice for each style

Email Dynamix ($8.97 FREE PDF Download Now)

How to communicate effectively using email
Why email fails and what to do about it
When and how to use email to your advantage
The pitfalls of email and how to avoid them
How to uncover valuable information that your sender has unwittingly included
Discovering the sender's values by reading between the lines
Other Resources
Use these additional resources to expand your communication skills and become an expert communicator!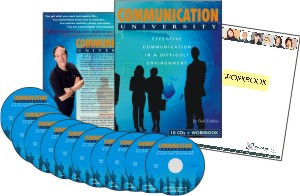 Communication University Self-Study Course ($197)

10 CD set and 50 page workbook
Includes a $197 live event discount coupon
Access to the members only website
Preferred registration at three private webcasts
Over $1000 in bonuses

Gold Circle Membership ($63 per month)

Access to our Maximum Advantage 'Members Only' content of audio, video, and print resources. This is normally $293 per year.
Priority registration at all of our monthly webcasts. Each webcast sells for $98.
A complimentary gold level seat at any of our live one or two day events. Event prices start at $995 each.
Members only pre-release pricing on all of Paul's new books, audio, and video programs before they are released.
I Think I Know What I Think You Said ($29.97 DVD)

This is a DVD of the program you attended!

Learn the five representational systems that people use to absorb and retain information
Use the included survey to find your preferred system
How to instantly detect and adapt to the other person(s) preferred way so that your message gets through
Learn the fastest way to read another person's verbal and nonverbal communication and automatically know the best way to respond
How to quickly change your speech patterns to clarify your message